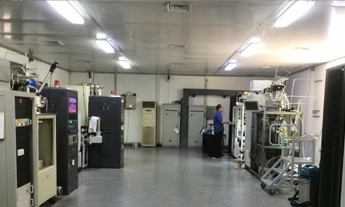 Founded in 1978, Hebei Institute of Laser (hereinafter referred to as HIL)is affiliated to Hebei Academy of Science,located in Shijiazhuang City, Hebei Province.Its function is to engage in the laser technology base and application research and provide the sharing technical supports and technical services for machinery manufacturing, automobile, metallurgy, construction materials, medical treatment and other industries and conduct new products development as well. Through 40-year development, HIL has formed its own characteristics and advantages in terms of personnel,technology and management. Currently, HIL possesses the scientific research and development team with the combination of the old, the middle-aged and the young professionals and the well-matching of the specialized technical categories including more than 60 researchers and associate researchers, among of whom, the researchers account for 18. Since 2008, the provincial key laboratory "Hebei Provincial Industrial Measurement and Control Technology Research Center" has been established jointly with the Institute of Electrical and Mechanical Engineering and the Institute of Automation; In 2011, it was recognized by the Provincial Department of Science and Technology as: "Hebei Province Small and Medium Enterprise Innovation Public Service Demonstration Agency"; In 2014, it was approved by the hospital to prepare and process diamond film as a key discipline of energy and new materials; In 2017, it was recognized as a high-tech enterprise for the third time in a row.

  Since the foundation of HIL, it has completed more than 160 state-level, provincial-level and prefecture (city)-level scientific research projects, among of which there are two major research projects belonging to Chinese national "863" plan during the period of "the Eighth Five-Year Plan" and "the Ninth Five-Year Plan" and 40 provincial-level and above key projects. HIL has obtained 20 provincial-level and above science and technology progress awards and more than 40 prefecture (city)-level science and technology progress awards. It also has released 235 science and technology articles and 6 translation works.Laser measurement technology and diamond preparation technology have won dozens of scientific research achievements and national patents. In the process of constantly adapting to the requirements of the country and the market, it gradually formed its own scientific research characteristics and development advantages.

  the Photoelectric Detection & Control Lab of HIL has been dedicated to research, development and application of photoelectric detection and control technologies and related products. Our products are widely used in the industries like glass and lighting appliances. Our dominant products are technically advanced in the domestic or international market, e.g.laser level controllers ,laser calipers, glass tube laser separators, online detecting systems for glass tube wall thickness, computer detecting systems for trumpet tubes, and laser triangle shift measuring systems.The domestic market share of laser level controllers and laser calipers is more than 60%.

  Plasma Laboratory of HIL established Hebei Plasma Diamond Technology Co., Ltd. The new management structure is more conducive to concentrate on the company's advantages and improve CVD diamond preparation technology.The research and development level of artificial diamond by chemical vapor deposition diamond film technology is the world leader.At present, it is expanding into two markets at home and abroad. In order to meet the needs of CVD diamond tools, heat sinks, optics, and other fields, it is focusing on research and development in large area high quality diamond film equipment and processes, microwave plasma chemical vapor deposition equipment and processes, single crystal diamond preparation, and subsequent processing, and is actively cooperating with domestic scientific research institutions. Drives the transformation of results from the source.

  In the new era of development, we faces new development opportunities and challenges.we stick to the spirit of advancing with the times to construct the open platform of HIL. Our HIL people will continue to improve themselves in the two-way exchanges with the market, to build a strong economy, beautiful Hebei, building a well-off society in an all-round way to make new and greater contributions!